Movie Synopsis
Kathmandu, the capital city of Nepal is somewhat becoming fragile in terms of sociological and cultural facets. The city is deteriorating. The norms and values of family life is waning. Generation gap has accompanied various disastrous problems. The movie "Kathmandu" sheds light into the critical problems of family life in Kathmandu which could result to a fatal end.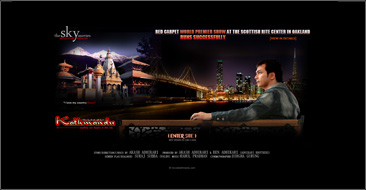 The deviation of youths is another grave scenario in Kathmandu. They are blown to carefree life where they fatally engross in multiple cases of drugs addiction, pre-marital sex, criminal attitudes and awful defiance of caretaker or guardian. They are just bewildered by the indifference of all.

The enormous transformation of Nepalese society has contributed a lot in this. The peculiarly growing materialistic approach in family life has engulfed some essential sentiments of the basics of family life. And this has resulted to family break ups and indifference towards each other.

The serious question is where are we heading and leading the youngsters? Why are our youngsters worried and aimless? Is it due to lack of opportunities? Is it due to modernization? Is it due to our generation gap? Is it due to tough competition, or is it due to lack of access?

The indulgence of youths in smoking, drinking, drugs, sex, discos and parties are cautioning. The youths have no vision for their careers and the future of our nation. These are cursory for the new definition of life, liberty and responsibilities of an individual and his association to the family life.

In "Kathmandu" Aryan sets out his ambitious journey from the USA to Nepal with ardent wish to do something worthy for the nation. But later on he discovers his own family entangled in relationship crisis. The story moves on with robust and high dramatic flow with emotional rise and fall. With happy ending the story portrays the representative incident that is seen to be common now in Kathmandu. But Aryan has still some unanswered questions. Who is responsible for these situations - Parents...? Youngsters...? Society...? Teachers...? Politicians...? Government...? Or the social structure itself...?

Anyways the story is smooth and moving. It has ultimately drawn a conclusion that "renaissance in family life outlook is indispensable".

This is "Kathmandu".....after all; anything can happen in this city!